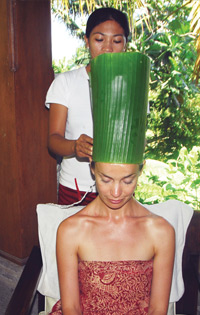 Thousands of years earlier than present day remedy supplied scientific evidence for the mind and body connection, the sages of India advanced Ayurveda, which is still one of the global's most state-of-the-art and effective mind-frame health systems. More than an insignificant system of treating illness, Ayurveda is a technological experience of lifestyles (Ayur = life, Veda = science or information). It offers a body of experience designed to help humans live vibrant and healthful while realizing their full human capability.
We maintain numerous cosmetics in hand to improve our pores and skin, hair and beauty. Are they safe? What do you consider the natural methods to disappear those issues? Ayurveda gives us a complete solution for curing, rejuvenating the beauty factors for each males and females.
Barkha Beauty Parlor offers you the widest range of Ayurvedic treatments that would affect positively on your skin. Bindiya learned Ayurveda treatment 2013 from Kerala.
Product used: – Herbal oil, ayurvedic water, couple of flowers, banana Leaf & dry herbs.
PRICELIST :-
Ayurvedic Hair Treatment
Price
Time
Ayurvedic Hair-Fall Treatment

from

$55.00
50 to 60min
Ayurvedic Customized Dandruff Treatment
$60.00
50 to 60min
Ayurvedic Customized Dry Hair Treatment

from

$60.00
–
Ayurvedic Scanty Treatment

from

$65.00
–
CALL NOW : +61 286773540